Excell was founded in 1970. For more than 50 years, we have been expanding globally as a B to B plastic parts manufacturer. In 2022, under the slogan "Explore New Combinations," we have decided to make a new attempt to find new encounters in the Metaverse area. We are now looking for new encounters in the metaverse area as a new challenge. For this reason, instead of a manufacturing industry exhibition, we decided to participate in "Virtual Market," the world's largest VR event where various digital natives participate!
In the booth, visitors were able to enjoy activities such as watching a simple explanatory video about our unique technologies such as MES and Exchange method and fluid analysis in a space that resembled a giant duct, observing 3D models of ducts and giveaway samples in VR and bending its bellows by holding them with both hands.
VR Avator "I Tube"
And on the left is "I Tube", an original character created together with Excell's Metaverse expansion (participating in the Vket).
It supports full tracking, so by actually taking the form of I Tube, you can actually experience bending the bellows of the ducts which are on the joints.
In addition, at the bottom of this page, the avatar data of I Tube which can be used in VRChat is available for free!
The colors can be changed or modified as long as the logo is left intact, and can be used freely within VRChat.
(Texture data is also included.)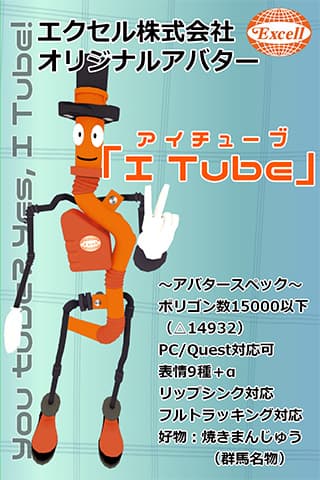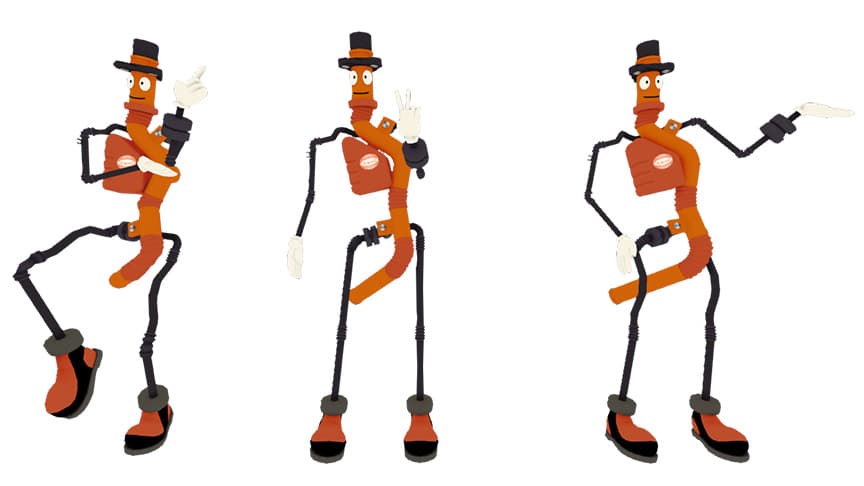 We look forward to your continued support of I Tube and Excell Corporation!
The design of I Tube, Excell's VR-related efforts, and the actual booth that was open at Vket2022 Summer are on note. Please take a look. (In preparation)
We have also opened a Twitter account as a place for more casual information release and exchange.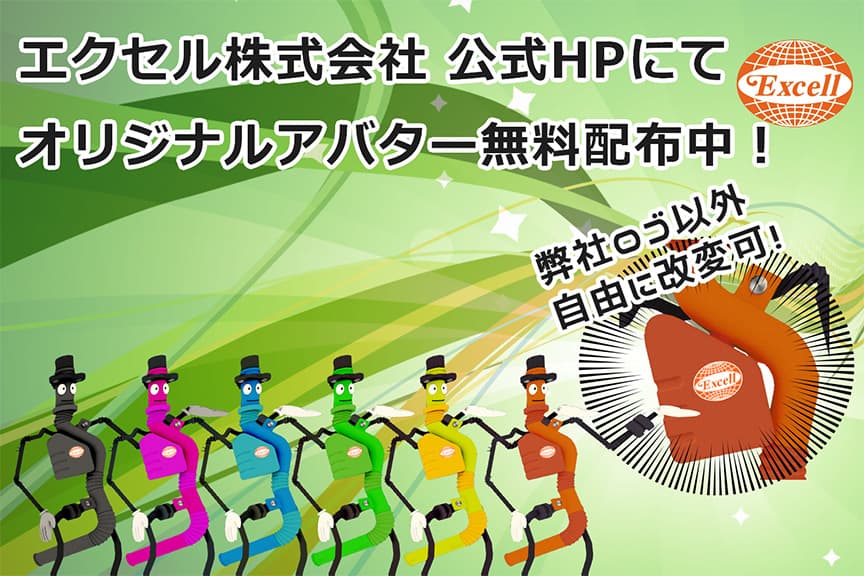 By using this model in any form, you are deemed to have agreed to the following terms of use.
Implementation and modification of the avatar requires separate software, including Unity.
Please see below for the avatar Terms of Use.
[ Terms of Use ]
This model is released under UV license.
This data has the following special notes.
Remarks
Modification of this model for non-commercial use is included in the scope of the permission, under the condition that the user does not alter or intentionally hide the company's logo image.
Distribution and sale of derivative works are not permitted, unless otherwise authorized in the individual clauses. However, only modified texture image data is acceptable to be distributed.