Exchange® Blow Molding
This is a technology that integrates two different types of resin materials (e.g., soft and hard materials) in a single process by alternately switching between them. Mobility parts, which were conventionally designed with "rubber hoses to absorb vibration" and "metal pipes to fix products," can now be integrated with "rubber-like resin" and "hard resin" by Exchange Blow Molding.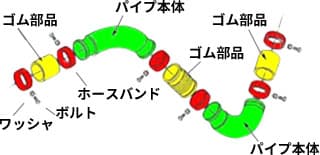 Advantages of Exchange Blow Molding
Reduction of tooling and other costs by reducing the number of components
Weight reduction by reducing the number of components
Reduced risk of leaks and drop-off by integrating fastening points (reduced assembly man-hours)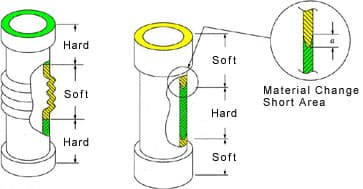 For example, switching to soft material at the bellows portion provides piping flexibility, and switching to soft material at both ends allows design of piping that inserts (mates with) another component.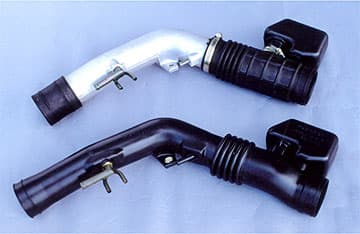 Exchange Blow is developed on the basis of MES Blow, so it is a technology that expands new design possibilities while retaining the advantages of MES Blow.